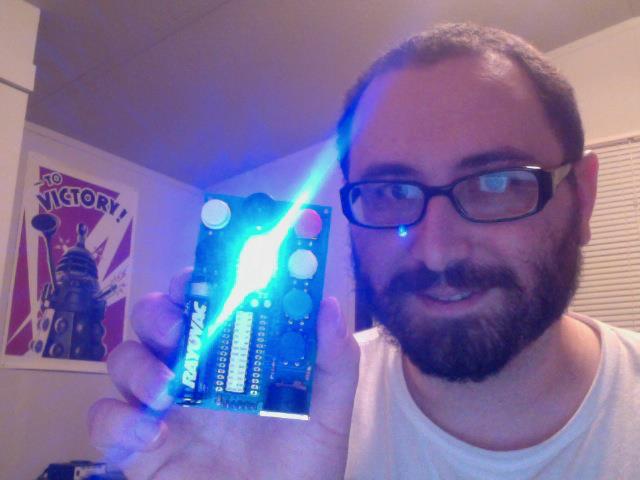 Hey folks, Pete here! If you've heard those words -- or some variant thereof -- you've probably seen some of my YouTube videos, and followed that ubiquitous URL back here. Or maybe you heard me on KZSB AM 1290 with Mark McIntire, or saw me on "Ask an Engineer" with Limor "Ladyada" Fried. Whatever brought you here, welcome!

I would define myself as a perpetual student who loves to learn and create. If I could do nothing in life but write music and build gadgets, I probably would. Unfortunately, these pursuits have only ever provided supplemental income at best, so by day I'm compelled to work as an independent quantitative analyst and stock/options trader. If you're wondering why I never do videos on that topic, it's because I cannot afford to give away my competitive advantages. Sorry!

For many years, I enjoyed making YouTube videos. Sadly, ever since Google started cracking down on any content that they deem to be "too informative", I've lost interest. There was a time when I made a decent supplemental income from my videos. But then the censors broke out their red pens, and started removing or demonetizing all my most popular/lucrative content. This includes my infamous guide to hacking wifi hotspots, which garnered the lion's share of my 2.5 million views and 6.2 thousand subscribers.

I am available for hire. My standard rate is $30 per hour. I do electrical engineering, 3D CAD modeling, and coding in most programming languages. I also take on the occasional tutoring client. Interested parties can email me at petelaric at protonmail dot com. I don't sell weapons or do "black hat" hacking, sorry.

I hope you enjoy perusing my collection of original music and DIY projects. Most of it is provided free of charge. All I ask is that you exercise due caution if you attempt to replicate any of my more dangerous projects, and of course don't blame me if anything goes wrong. I think that's fair.


---
Music
Discography
Self-Hypnosis (2000) . Remixed by ejayerik (2009)


---
Tinkering
Engineering
Magic Mirror video
Gammaphone nuclear-powered music box (currently offline -- sorry!)

Software
Tiny Ray Caster
Photography
I'm not a photographer, but I've been lucky to witness some cool stuff on occasion.


---
Web Presence / Contact
I'm all over the web like a virus, but I don't do social media. If you need my services, send me an email (petelaric at protonmail dot com). My standard rate is $30 per hour for engineering services, tutoring, etc. If your project is sensitive, use PGP encryption (here's my public key). I won't work for any military or intelligence agency.


GitHub


Email

p e t e l a r i c
a t p r o t o n m
a i l d o t c o m


Donations are always welcome and greatly appreciated!


Bitcoin: 1EExevPZkgjoRFEbQzTFLpAoyDpwAdeQXw




© 2021 Pete Laric, All Rights Reserved